Free Session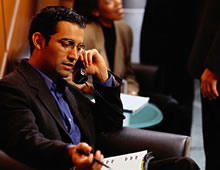 Want to learn more before you dive into a coaching relationship? I offer FREE exploratory sessions where you can kick the tires and find out if coaching is really for you.
You want a coach you really hit it off with. So we'll start by getting to know each other a little bit, talk about your objectives, what to expect in a coaching relationship, and what would make this a great success for you. If you've never been coached, I'll demonstrate for a few minutes to show you what it's like. I want you to make a great decision so we only launch a coaching relationship if you are 100% ready to leap forward.
If you'd like to begin exploring, fill out the Comp Session Form below, and we'll set up a time for your free session.
Name:
Telephone Number:
Cell Phone:
Email Address:
Comments:
Please contact me by:
Email
Telephone
Logistics
When would be some good times to meet for your free session?
How did you find out about me?
What Do You Want?
1. What are you most passionate about in life?
2. What are you most frustrated with right now?
3. What are three major things you'd like to change or accomplish in the next six months?
4. What's the first thing you'd want to work on with a coach?
5. What's the obstacle or the hesitation that keeps you from getting started?
6. What outcome would make working with a coach a great success?